Due to the COVID-19 pandemic, businesses around the world are struggling to keep projects on track and to keep employees engaged and motivated. No one expected for 2020 to be a year of so many changes.  The biggest being no face-to-face interaction, which has the entire world having to result in all meetings going virtual. A year later in 2021 some can say there are several pros and cons of virtual meetings. Let's take a look at what they are!
Pro: Cost-effectiveness
Cost-effectiveness would be the biggest and most obvious benefit to point out is the cost savings of attending a virtual meeting. Every business wants to save money and cut costs wherever they can. Hosting meetings online saves in this area because the business does not have to pay for any accommodations for attendees. You do not have to worry about renting a meeting room or purchasing refreshments. From large to small, you can host a virtual meeting for zero dollars.
Con: There is less interaction
Without in-person meetings, the energy is not the same. The need for structure in virtual meetings can dilute the energy. Everyone cannot actively speak or participate in discussions fully since virtual meetings are usually structured tightly. Have you ever been on a virtual call and you answer the question the same time someone else does and it just sounds like you are on the subway in New York? With in-person meetings, you can communicate in several ways other than voice. While virtual meeting relies solely on your voice.
Pro: More Frequent Meetings
When meetings are virtual, you can hold meetings more often. From quick 10-minute check-ins with your team to weekly meetings with a large group that runs for an hour. The option of virtual meetings leaves less room for the "I can't make it" people. For a face-to-face meeting, it is often complicated to pick a time and location that fits in everyone's schedule. It is much easier for virtual meetings, as everyone can connect from wherever they are in the world. If some people have limited time, they may still be able to check in. If some need to hop on another call, they can leave early without any distractions involved.
Con: They are less spontaneous
In-person meetings allows you to have a chance to speak to someone you would not usually interact with. In-person meetings are a form of networking. Those in-person meetings can create new ideas, new business, partnerships, bring investors in and more. While the nature of online meetings may help more attendees join, some of those attendees go unnoticed sometimes. Meetings that are in person, it is easy to make yourself known or just bump into a random coworker and have a conversation. You are less likely to speak to someone who is not specifically talking to you.  This makes networking more difficult.
Pro: Increased attendance
Virtual meetings offer a level of simplicity for attendees. They do not have to travel to attend a meeting that takes place virtually. They can even drop in and out of meetings if they have other meetings or business to deal with. This is the most popular benefit because it can be accessed from any device and from any part of the world. It allows you to have a wider audience without the need for them to spend additional funds on travel and/or accommodations.
Con: Internet Connections Can Fail
Can we ever trust technology? To hold a virtual call, all members need a good internet connection. Poor internet connections can lead to things going wrong. Attendees may miss parts of the meeting and movements may be seen slower to other attendees. Although there is a dial-in option where you can use your mobile phone, if there is a point in the meeting where you need share your screen or need to see someone's screenshare, you will be unable to do so.   Most times this results in an unsuccessful meeting.
Virtual meetings are the new normal. Virtual meetings can be cost-effective but there are less interactions. Virtual Meetings allows you to host more frequent meetings, but they can be less spontaneous. They allow you to have an increase in attendees, but some attendee's internet connections can fail. Like everything, virtual meetings have advantages and disadvantages. For most, the pros outweigh the cons. Right now, virtual meetings are a necessity but who knows what is next?  We will just have to see what the rest of 2021 will brings.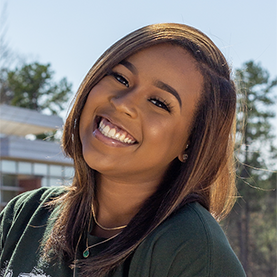 Desteny is an Account Coordinator at Farshore. She recently graduated from Georgia Gwinnett College with a Bachelor's Degree in Business Administration, with a concentration in Marketing. When she's not working you will probably see her at a poetry spot reciting poetry or in the kitchen baking.