Another year, another successful TechWeek. This year didn't disappoint, with exciting new Chicago startups, enlightening panels, and awesome competitions.
Farshore started out the week at the Expo where we heard all about Crowdfynd, tried out Freeosk's sample vending machine, and tested our physical strength with the nextstep.io mobile app. Also exhibiting were Farshore partner companies Tablesavvy, DigitalGroundUp, Stock Manufacturing Co., PackBack Books, and Robotoaster!
Next we moved on to the panels. First, we sat in on an SEO panel. (Did you know that it can take Google 30 days to reindex new content?!) We also learned about Bitcoin and heard from Matt Mullenweg, founder of WordPress.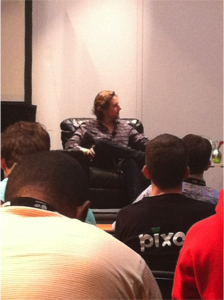 We concluded Techweek at Launch, a competition to find the best new Chicago startup. After a brief introduction from J.B. Pritzker, five startups gave a quick presentation on their startups. After a short round of deliberation, the winner was crowned—WeDeliver. WeDeliver won over $100,000 in prizes and services. To round out the night, there was a short presentation from Rahm Emanuel.