SEO is the process of affecting a webpage's rankings on unpaid search engines like Google, Bing, and Yahoo. These search engines use a predictable algorithm to determine ranking, and with the right tools any website can move up in the listings. This series will focus primarily on website structure (what you should be doing from day 1) as well as maintenance tools like link building that are a part of a longer term SEO strategy.
Within this 3-part series is a precise, powerful process to take your website/concept from a low ranking to the top of the search listings. We'll use the example of OpenTable, a restaurant reservations service.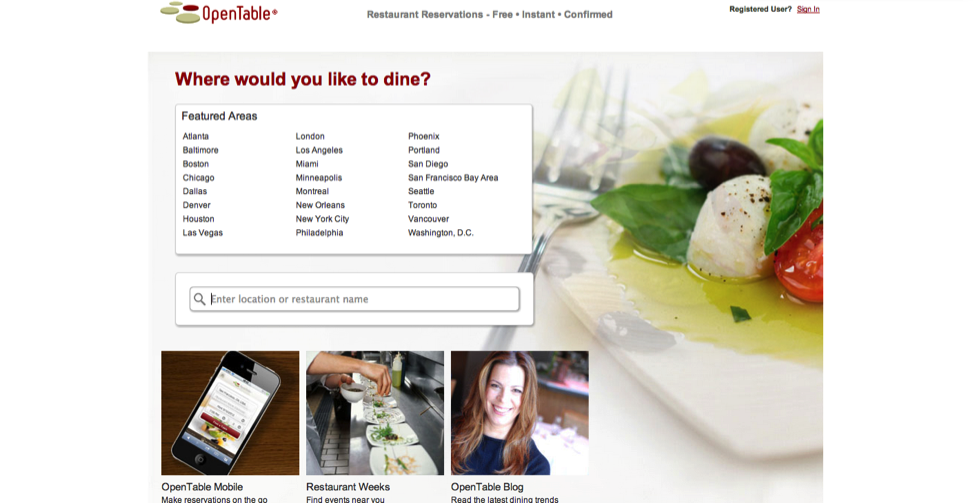 Part I: Finding Keywords to Optimize For
Brainstorming, Competitive Research, Relevancy & Difficulty
The first step in creating an SEO-friendly website is keyword research. The goal of this step is not just to determine the keywords that are searched for the most often, but also those which have the lowest level of competition. This is important because you will be competing for Search Engine Ranking Position (commonly referred to as "SERP") with other companies that are optimizing for your chosen keyword and it is best to keep these companies to a minimum.
1. Come up with a list of 100-200 keywords and phrases that relate to your business concept. These keywords are your best guess at what people will be using to search for the product or service that your business will be providing.
In example: Opentable, Chicago, dining, reservations, discounts, deals, restaurants, restaurant reservations, Chicago reservations, chicago food, Chicago restaurant reservations, Chicago dining, Chicago restaurants, last minute restaurant, restaurant offers, restaurant deals, Chicago magazine, river north restaurants, wicker park restaurants, west loop restaurants
Note: Google has replaced the tool captured in this document with a slightly different tool integrated into AdWords. Functionality has remained the same. For information on the new tool that is integrated with AdWords, visit Practical E-Commerce.
To help brainstorm different keywords, we recommend using the Google adwords keyword suggestion tool found under "tools" at adwords.google.com. Enter the keywords you do have, and Google will give you some suggestions. By using this tool, our list ballooned from the above to 164 keywords. Another helpful tool to use is Ubersuggest; while the suggestions often can be unrelated, Ubersuggest allows you to filter suggestions by category.
Best Practices: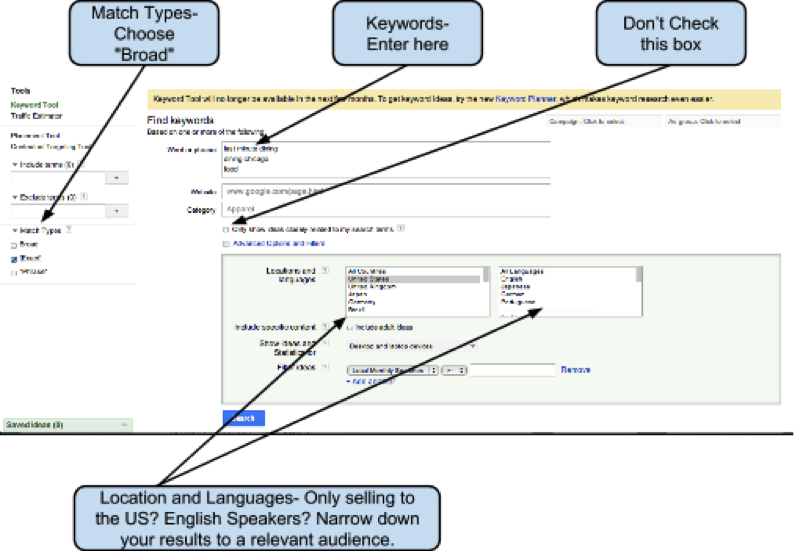 2. For an early stage startup, best advertising and SEO practices can often be found by researching your larger, more-developed competitors. Your competitors may devote significant amounts of time and resources to SEO, and with a low budget it can be helpful to see and replicate the keywords they have carefully selected. Research your competitors to see what keywords they are using in their SEO strategy. KeywordSpy reveals the keywords your competition is paying for through PPC advertising. For a specific website or those not listed on KeywordSpy, you can see the exact meta descriptions and and other tags that may contain keywords using the "View Source" option in your browser.
3. After compiling the list of keywords from Steps 1 and 2, our next step is to analyze the keywords you've come up with for relevancy, volume, and competition. The goal of this step is to take the large list you've created and turn it into 5-10 primary keywords that you can act on with 10-15 secondary keywords that you can also use throughout your site. There are two tools you'll want to use to do this.
a) Google Keyword Planner – You may have already used this tool to come up with related keywords. You'll want to paste in your entire list using the parameters shown in the screenshot below(from steps 1 and 2) (and download the output as an Excel file. This file contains all of your keywords, as well as three more data points: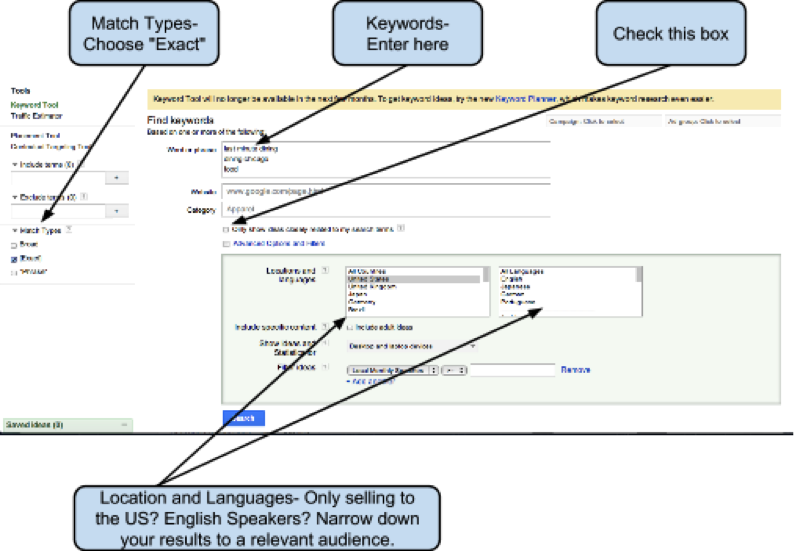 i) Level of competition- This is on a scale of 0 to 1, 1 being the highest level of competition. "flkjdasfjkl" yields a 0, while "car insurance quotes" is 0.98. Your goal is to find relevant keywords that you'll be able to rank for, so try to keep the competition level below 0.20 if possible. It's important to note that competition is measured by how many people are paying for that keyword. The more competitive, the higher the price is likely to be if we were to pay for that keyword. While this is not a direct indication of how many websites are using that keyword in their website structure, it serves as a good proxy.
ii) Monthly searches (Globally and Locally)- This gives you an idea of how much traffic you can expect on a given keyword. You should determine whether you are aiming to get global or local traffic (by country). Since OpenTable is only in certain geographic areas, we only were interested in traffic from those countries. You can't get too specific with the local keywords, but can ensure that you weed out large areas. (No customers from any country but England? You'll want to set this parameter and then refer to the 'local' column.)
1. These numbers are approximate averages taken over 12 months. If Google doesn't have enough data, the global average will be noted with a dash ("-"). If you've selected multiple locations, a location that isn't a country or Google doesn't have enough data, the monthly average will be noted with a dash "-".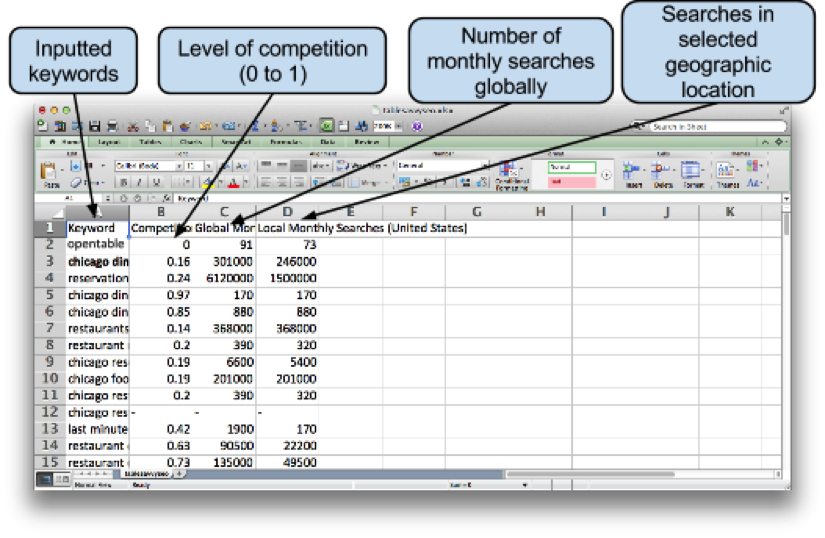 b) If you have a website already, you may find it helpful to use SEOmoz's keyword tools. SEOmoz offers a free 30-day trial to get you started. In addition to their Keyword Analysis tool (similar to Google Adword's Keyword Tool), you can run a Rankings Report. This lists your ranking for each keyword, so long as you rank in the top 50.
i) To run a Rankings Report, you need to start a campaign with SEOMoz. Copy and paste your keywords and let it run. As of now, SEOMoz only runs keyword analysis every Friday.
ii) Once SEOMoz has analyzed the keywords, export the information to CSV. This document contains more information than what is displayed on the website. One of the more important data points is the Google US URL. If you rank in the top 50 for a given keyword, SEOMoz lists what URL is linked from the search engine, so you know exactly what page is ranking for the keyword and gives you a chance to optimize those page accordingly.
1) For example: According to the report, Opentable ranks 26 for the keyword "last minute dining", but the link leads to http://blog.opentable.com/. This could increase bounce rates because people are most likely looking for the OpenTable interface, not the blog. Eventually we'll want to consider how we can have opentable.com rank instead of the blog.
2) Based on your research, identify 10-15 keywords with high traffic and also a low competition level. You should also create a list of 10-15 keywords/phrases that will be secondary targets (to be discussed further in the next section). Separate your list into keywords associated more generally with your business (last minute dining, last minute reservations, etc.) and "category" phrases. These "category" keywords will be used on specific pages within your website. In the example of OpenTable, the individual partner restaurants had relatively low search volume ("Roka Akor" had 6,600 monthly searches) but low competition. For this reason, we made a note of these restaurants for optimization of the individual restaurant pages.
By now, you should have your keywords. But where do you put them? Read part two now.