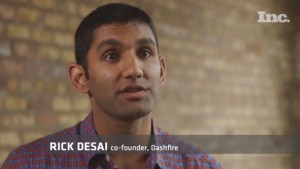 Today, Inc.com featured Rick, our head of corporate strategy and co-founder of sister company Dashfire, in their latest Playbook video, "Why You Should Invest in Customer Sophistication."
Rick explains how he helped the Matchist founders make it work in the marketplace by investing in customer education.
"If you meet someone who doesn't have a clue, take the time to give them the clue," he says, quoting Dave Cohen and Brad Feld four years ago when the co-founders first introduced Techstars, then named Accelerate Labs.
Head over to The Playbook at Inc.com to watch the full video.