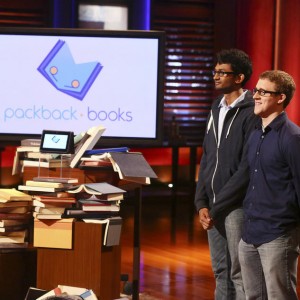 Fresh off of their success on ABC's Shark Tank in March, FarShore partner Packback Books has just closed  a $1 million round of funding. In addition to Shark Tank mentor Mark Cuban, this raise includes 1871 Chicago CEO Howard Tullman, former Netflix exec Mark Achler, ContextMedia's Rishi Shah, and Mark Tebbe from the University of Chicago's Booth School of Business.
Connected through partner company Dashfire and supported at launch by FarShore, PackBack puts an end to high textbook prices. Through PackBack, users can rent titles from the growing PackBack library for $3 to $5/day. All rentals are delivered (and returned) wirelessly  in e-book format. Publishers are reaching a new demographic: users that traditionally buy books used and produce no new revenue.
Since launch, the Packback catalog has increased to over 3,000, and the team is consistently increasing the number of titles available. With their investment, Packback is looking to scale the catalog quicker than previously possible as well as grow its ambassador program, which enables students to evangelize the Packback experience on campus.
Congratulations to Packback!