After initial launch and optimization of your app, odds are you'll want to keep the momentum going. Below are 3 important aspects to ensuring both new and continuing engagement.
1. App Analytics— Measuring events (conversions, visits, registrations, etc.) on mobile is just as important and should be emphasized just as much as on the internet. Similar to web analytics, it will be important to work with your developer on properly labeling screens and events so that you are accurately tracking in-app attribution. Two tools come recommended for Android Apps:
1. Google Mobile App Analytics— Google's free tool supports much of the same functionality as is available on Web Analytics.
2. Flurry— Also free, Flurry is widely viewed as the best mobile analytics platform. While Google Analytics focuses on and best supports Google-created Android, Flurry is truly cross-platform.
Both Flurry and Google Analytics are widely praised, and odds are most non-analytics professionals will find both tools suitable. Both tools are free; if you do need a tool to fill in any gaps, Mixpanel is recommended.
* It is in important to note that if you are working with an advertising network (Google, Facebook, Pandora, TapJoy, etc), we recommend integrating with a third party SDK to properly track attributions post-install. Some leading companies include Apps Flyer, Mobile App Tracking, Kochava, and Apsalar.
2. Push Notifications— A surefire way to increase user engagement is to create and send out tailored push notifications on a regular basis to users. Assuming you're just getting started, creating a server to handle notifications will not be cost effective. There are a number of notifications providers which can push notifications for you. The right service will depend most on the frequency and total quantity of notifications you plan to send out– a comparison of leading services from B2Cloud can be found below.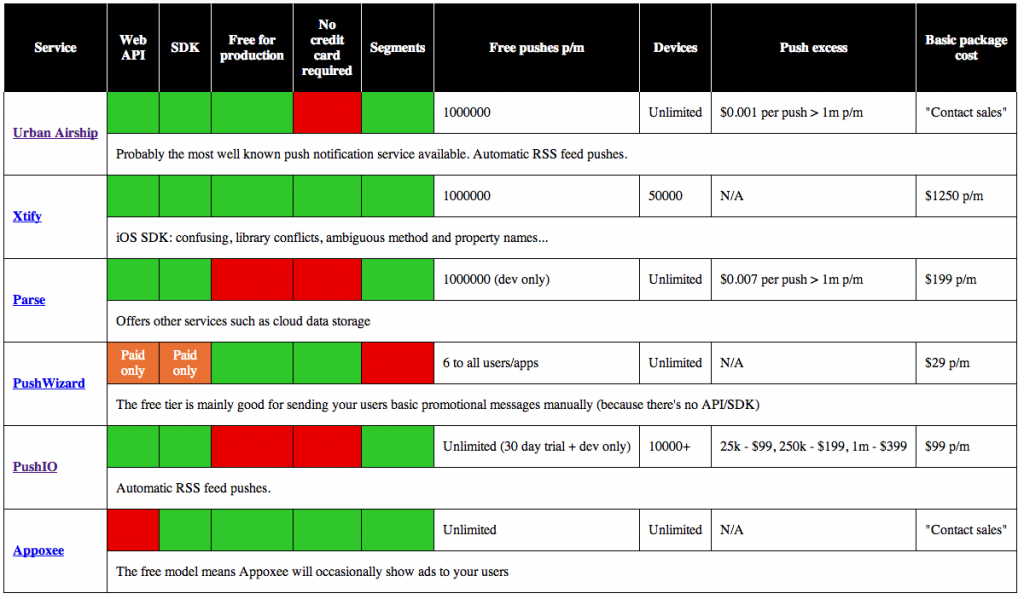 3. Add a Smart App banner-– Did you start out online? Odds are you might already be getting a steady stream of users viewing your website on mobile. Let those existing users know you have an Android app by installing a Smart App banner, which automatically alerts potential downloaders on your website.
Learn how to install a Smart App Banner here.
4. Setting Up Partnerships— Cross-promoting your app or service with another related or complementary service can seriously extend your reach. Look for brands that aren't competitive with you yet have the same target audience.
One perfect example involved Uber, Airbnb, LayerCake, and BrideSide. Each brand promoted the campaign, and each participant had to enter an email. At the end of the promotion, each company got access to all emails.
In order to measure the success of these campaigns, you should track both promotion views and number of emails collected.
5. Social Media— Most of this is self-explanatory: you need to create typical social profiles– think Facebook and Twitter– and post awesome content regularly. Beyond these networks, establishing a presence on a more niche, targetted platform could prove to be beneficial. Photogenic service? Use Instagram. Shareable? Try Pinterest. Worthy of discussion? Participate on Reddit.