When starting an online clothing company, it's easy to get bogged down in procuring or manufacturing great products to sell. Without a well-thought-out online store, however, you won't have the ability to sell your products effectively to your target audience. Below, we've outlined ten key considerations for anyone about to start an online store.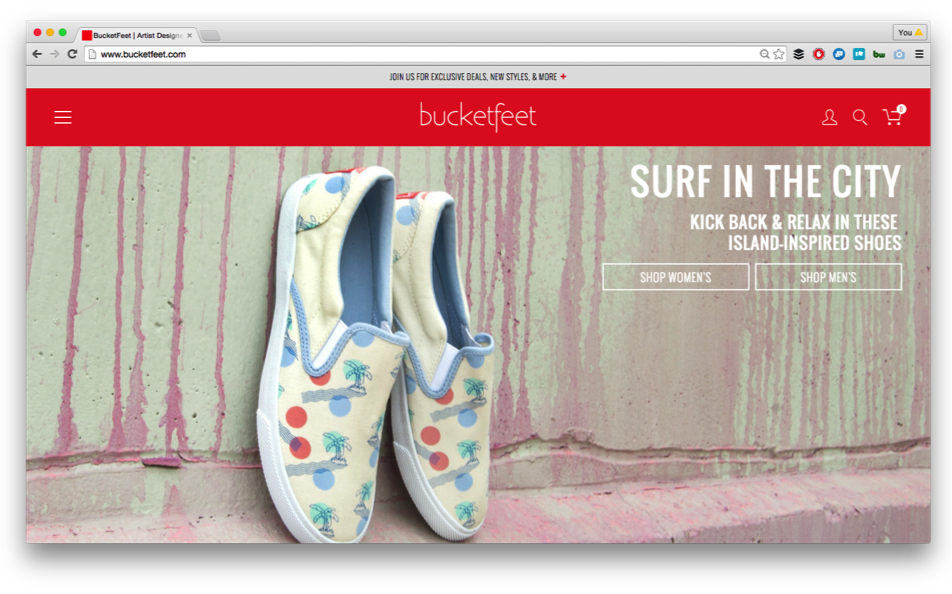 Planning and Strategy
1. Customers– Where will your traffic come from? One of the biggest mistakes made by new entrepreneurs is failing to identify a target audience. Once identified, your target market will influence every movement you make with your online store going forward. In this post, Entrepreneur shares some key questions for entrepreneurs to ask themselves before identifying a target audience.
2. Differentiation– After identifying a target audience, think: why will this audience order from me? The online clothing and fashion industries are especially competitive, and behemoths like Zappos and control large swaths of the online space. That's not to say there isn't room for another entrant, but all new online fashion stores must architect a comparative advantage.
3. Shipping– As we mentioned in our last post, customers have come to expect free shipping; brands that don't offer free or low-cost options risk shopping cart abandonment. You'll also want to determine what your store return policy will be; many top fashion stores online offer free returns. Ideally, you should calculate shipping and return costs, then factor that price into your margins.
4. Backend functionality— Before you think about the specific platforms and development assistance you'll need for your fashion store, you ought to consider the processes you might need to use on a daily basis. Hours of planning now can save you days of menial processes in the future. For example, how will you fulfill your orders? If you're holding inventory, what will be the flow from when a customer places an order to his/her receipt of that order?
5. Specials and Promotions– How do you plan to create demand at low points in your sales cycle? Will you do buy one get offers? Have a subscription plan to stabilize revenue? The types of discounts and specials you plan to offer will affect the complexity of the eCommerce platform and subsequent development you need.
Launching your Website
6. eCommerce Platform— A few weeks back, I wrote about four potential online store platforms for new business owners. For fashion stores, I would typically recommend a Magento buildout. Most of FarShore's fashion clients, including Bucketfeet, Boga, and Stock Manufacturing Co., are built on Magento. Shopify is an option for small upstarts, but will not enable customization as your eCommerce brand grows.
7. Mobile design– By the end of this year, more than a quarter of the world's population will use a smartphone (eMarketer).  Nearly half of all online retail traffic now comes from mobile devices (IBM). Clearly, optimization of your online fashion store for mobile is incredibly important. At the very least, you should plan to create a website that is responsive. As you grow, you may want to consider developing a native mobile app.
8. Product Photography— One of the most frequently forgotten aspects of building an online fashion brand is product photography. Most customers won't have anything to go off of other than how your products are portrayed in images online. Services like POW Product Photography will handle this process for you. If you're feeling a bit more adventurous, several online DIY resources will help you take beautiful photos yourself. If you decide to go this route – be sure to check our detailed guide about product photography!
9. Copywriting– Many entrepreneurs go through the planning and website development phases of their websites, and then streamline the content creation process. Website content is one of the most important parts of your website. Before launching your website, plan to set aside a period of time for development of this content. If you'd like professional help, groups like Lightspan Digital can assist companies with this process. And if you decide to write the website copy by yourself – you can find some valuable info in our eCommerce copywriting guide.
10. A/B Testing— The best eCommerce stores never stop iterating on their websites. One quick and easy way to ensure that no one who comes to your new website leaves because of website layout is by using an A/B testing tool like Optimizely. With Optimizely, you can show different configurations of your website to different users and measure which one has the higher conversion rate.
To be fair, these ten considerations only address a fraction of the questions you may have as a new fashion entrepreneur. At FarShore, we'd love to help out with your technology. Some of FarShore's most successful partners sell in the fashion and clothing spaces, from Bucketfeet to Boga and from Stock Manufacturing Co. to Luxury Garage Sale. Do you have more questions about how to start an online store? Contact us for details.